Notepad

Your notepad

You don't have any products on your notepad yet.
Eurocol 611 Eurostar Lino Plus
Product information of the company:
High quality, strong, resin-free, dispersion-based adhesive.
With high initial bonding strength and enhanced open time.
Wet-set adhesive with very fast setting and high adhesion power.
For installation of linoleum in sheets and tiles, cork, sisal, needle felt and textile øoor coverings with different backings, woven carpets, vinyl composite øoor coverings.
For laying on standard-compliant, fully levelled, absorbent subøoors.
Up to 25 % lower adhesive consumption than market standard products.
Linoleum and carpet adhesive, which is characterised by extremely low consumption and therefore leads to a fast re-drying of the installed floor.
Low consumption and high solids content result in less inøuence on the indentation behaviour of linoleum.
The product can be used on underfloor heating.
Suitable for use with chair castors according to DIN EN 12529.
For indoor use. Very low VOC emission. EMICODE EC 1 Plus.
Emission tested construction product according to DIBt principles.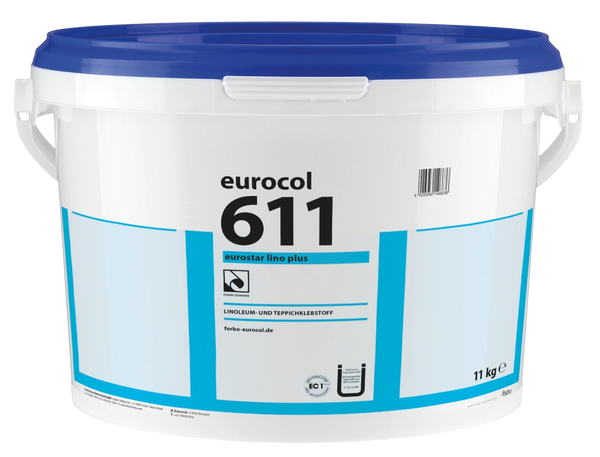 611 EUROSTAR LINO PLUS

Forbo Eurocol Deutschland GmbH
August-Röbling-Straße 2
99091 Erfurt
Germany