Your product information
When consumers want to find out about products, they often carry out research on the Internet today, irrespective of whether they subsequently make their purchase online or in a bricks and mortar store. They use the Internet to search for information about product features, prices or even environmental characteristics. No matter whether consumers are looking for an energy-efficient kettle, a laundry detergent that does not pollute bodies of water or a wall paint that does not pollute the air in the room: They can use the Blue Angel mobile website at any time in a DIY store or drugstore to check which products comply with the strict requirements of the environmental label and have thus been labelled as particularly environmentally friendly products.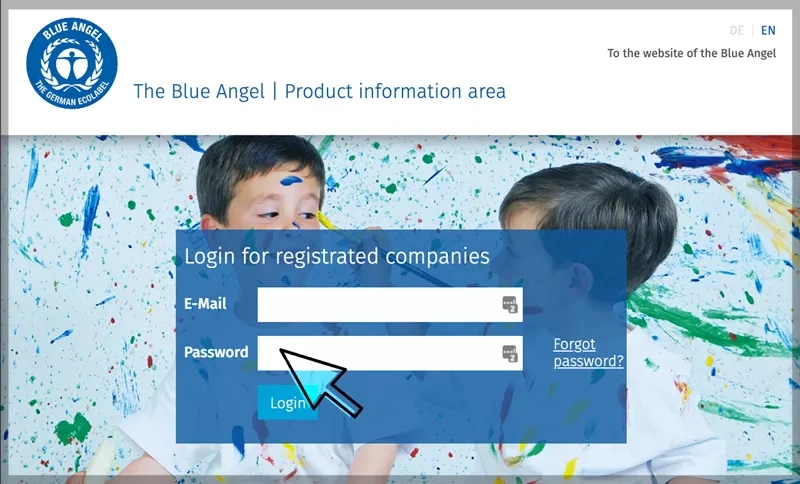 Access to the product portal
You can view your certified products and services in the product information section and add information about them such as e.g. photos, product descriptions and links to your own website or shop. After it has been checked, the information you have saved in the product information section will be activated and published on the BLUE ANGEL website.
You have the opportunity as a company to present your Blue Angel products using written text and photos on the website blauer-engel.de.
More than half a million visitors per year (with this figure rising consistently each year) demonstrate the enormous level of interest shown by consumers.
Directly link your product to a suitable list of dealers, an online shop or a search engine.
You can update your product information at any time.
This service is free of charge for all label holders.
VIDEO: Presentation of your products in the product information area
Consumers do not require any special app so that they always have the Blue Angel product world conveniently to hand when making their environmentally friendly purchases. They can simply save the Blue Angel website to their home screen and search through the product world on their mobile end device at any time for environmentally friendly products holding the Blue Angel environmental label.