Notepad

Your notepad

You don't have any products on your notepad yet.
Troldtekt Akustikplatten, Troldtekt Akustikplatten A2, Troldtekt@akustik auf Basis von FUTURECEM
Product information of the company:
The series of Troldtekt® acoustic panels for ceiling and wall cladding are made from certified wood, a 100% natural material, and cement extracted from Danish mineral resources.
The combination of wood and cement creates Troldtekt's unique sound absorbing properties, ensuring good acoustics in any room. The material has a natural resilience and can handle moist environments, while also providing effective fire protection.
10 years after Troldtekt's first Cradle to Cradle certification, the entire range of Troldtekt wood wool products has been upgraded from Cradle to Cradle Silver to Cradle to Cradle Gold. The certification includes the natural panels, the standard colors black, gray and white and the new Troldtekt panels based on FUTURECEM™. In the Material Health criterion, the products were even classified as platinum.
Troldtekt® acoustic panels are our classic one-layer acoustic panel, used in most types of buildings.
In terms of reaction to fire, Troldtekt acoustic panels have been tested in accordance with BS 476 and are "Class O" as designated in the British Building Regulations and have a Class 1 Spread of Flame classification.
The acoustic panels are used as ceiling or wall coverings. It can be installed on all commercially available substructures, e.g. with screws or concealed KN fittings on wooden battens, in a suspended C60 rail system and in a visible or concealed T-rail system - without using toolsHowever, they are most often installed with underlying mineral wool in order to ensure the best sound absorption (up to αw = 1,0!).
Troldtekt A2 panels are the non-combustible one-layer acoustic panel in the Troldtekt range. It is installed in areas where there are stricter fire safety regulations, such as in means of escape.
Troldtekt A2 panels are CE-marked and comply with A2-s1,d0 fire safety requirements.The fire safety of the Troldtekt A2 panel is achieved exclusively by using special cement without the addition of any toxic fire-retardant additives.
Like the classic Troldtekt acoustic panels, the Troldtekt A2 panels have also achieved the Cradle to Cradle certification in the gold category because, among other things, they do not contain any harmful substances and can be returned to nature as compost.
The use of special cement rather than fire-retardant additives has the great advantage that the Troldtekt A2 panel visually looks like the classic Troldtekt acoustic panel. For that reason, the two types of panel can be combined and installed in the same building without compromising the aesthetics or the acoustics, because the Troldtekt A2 panel can also achieve αw = 1,0.
Additionally, the Troldtekt A2 panel is lighter in weight which means that it is easier to handle than comparable panels with the same fire performance properties.
Troldtekt® design solutions combine good acoustics and a healthy indoor climate with expression and character.
You can create your own patterns and rhythms in the design – and vary and scale the given design. This gives you great freedom to harmonise form and function in all types of buildings.
The design solutions are mass-produced, drawing on CNC technology. This means that they can be purchased at competitive prices. All the solutions result in ceilings or walls that you experience as a large cohesive unit.
In a nutshell, it's not about the panel, but the surface.
The series of Troldtekt design solutions has received a large number of prizes and awards since it was launched:
ICONIC Awards 2019
German Design Awards 2020
Best wall design for interior design "The most beautiful restaurants and bars 2021"
Solution of the Year "Residential Buildings of the Year 2022"
German Design Awards 2023
Solution of the year - wall and floor design "The most beautiful restaurants & bars 2023"
Troldtekt® acoustic panels based on cement type FUTURECEM™ are acoustic panels for ceiling and wall cladding made from natural wood and cement from Danish raw material sources. They are characterized by good sound-absorbing properties and effective fire protection. They are also moisture-resistant, ensure a healthy room climate, are universal, easy to install and durable.
The cement type FUTURECEM™ uses the synergy between calcined clay and lime filler and gives the acoustic panels a slightly warmer shine than traditional gray cement.
Troldtekt panels based on FUTURECEM have a carbon footprint that is 26 and 38 percent lower than Troldtekt panels based on gray and white cement, respectively, measured over the entire life cycle of the acoustic panels.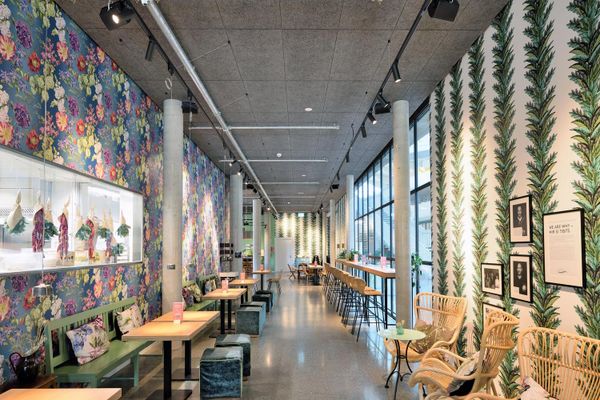 Troldtekt acoustics grey, Olaf Wiechers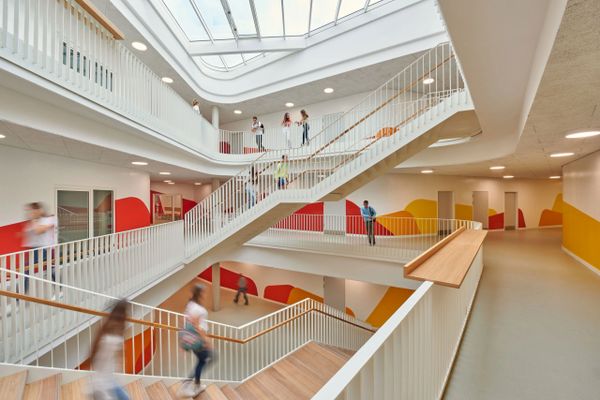 Troldtekt acoustics natural wood, David Matthiesen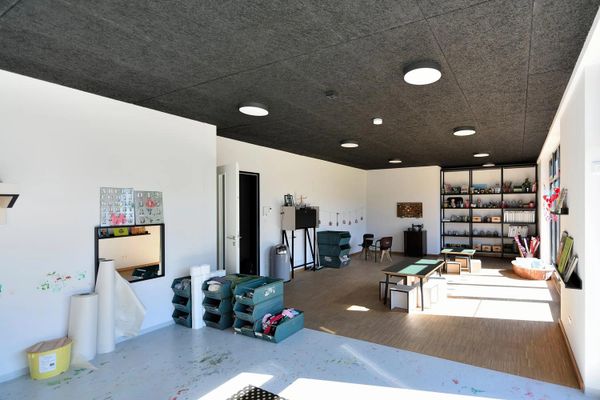 Troldtekt acoustics black, Olaf Wiechers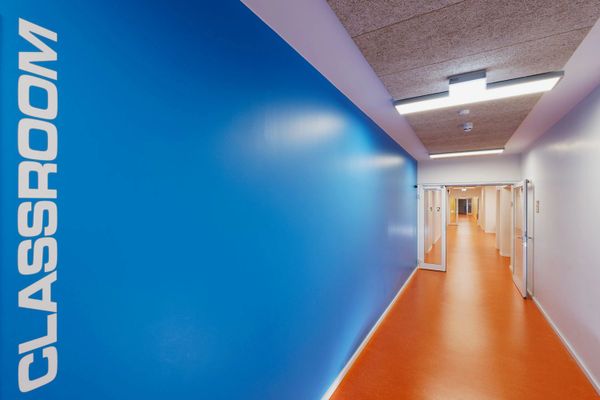 Troldtekt A2 natural wood, Olaf Wiechers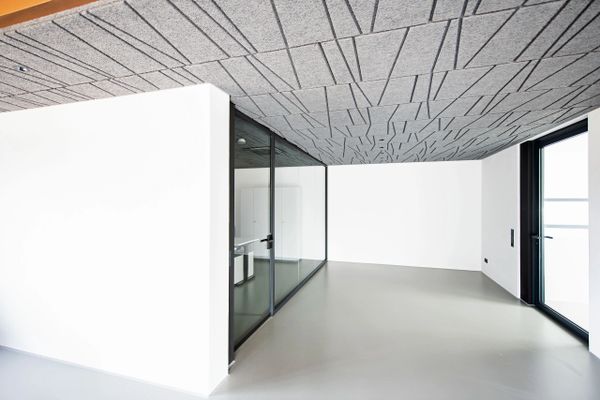 Troldtekt design solution, tilt line, grey, Olaf Wiechers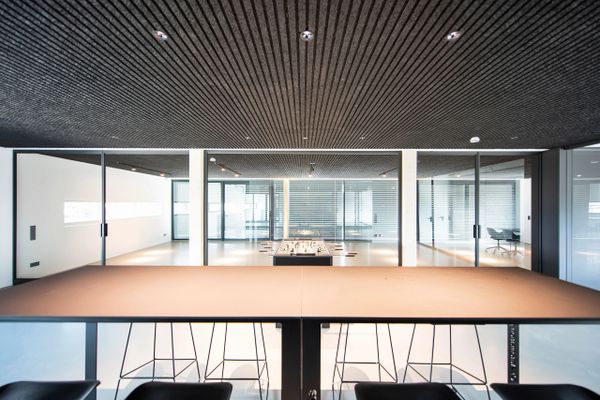 Troldtekt design solution, line, black, Olaf Wiechers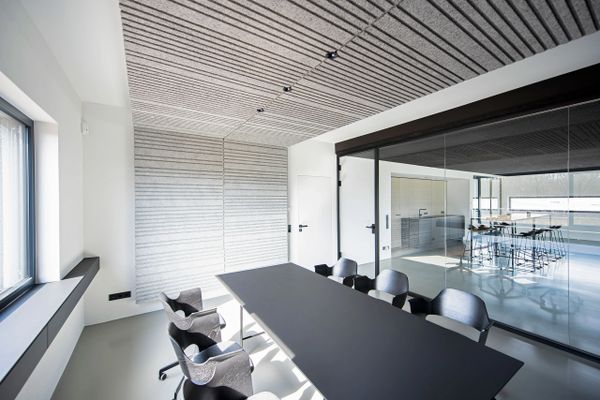 Troldtekt design solution, line design, grey, Olaf Wiechers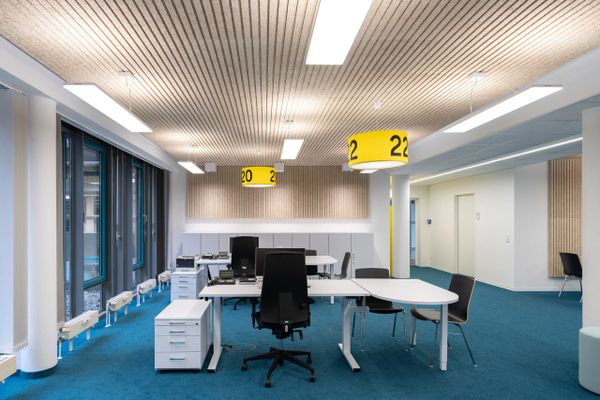 Troldtekt Design Solution, line, natural wood, Linus Lintner
More information about the product

Troldtekt A/S
Sletvej 2A
8310 Tranbjerg
Denmark
Country Manager Jesper Kvist