Notepad

Your notepad

You don't have any products on your notepad yet.
SHIFT BOOKS
Product information of the company:
The bathtub as a stage for a wide variety of actions - artist Bianca Kennedy stages the bathtub in four series of works and presents existential themes such as birth, sexuality and death. Body care becomes a secondary matter here.
Is the bathtub not an auspicious symbol? For the off-line mode of life? For the end of work and hygiene? But anyone who associates the bathtub only with naked bodies and relaxation should take a look at "Let me draw you a bath". In her monograph, the artist Bianca Kennedy shows that an entire life can take place in the bathtub, for in her case, reading, writing, drinking, smoking, smoking pot, kissing, laughing, singing, crying, mourning, arguing, sleeping, shooting, killing and loving take place there.
Kennedy has explored the bathtub in various video works and drawings since 2016. For example, she has created a silent film, a series of 200 drawings with digitally augmented content, a 3-channel video installation and a virtual reality experience. Bianca Kennedy uses the bathtub as a culturally and art-historically charged reference space to explore the borderline between cinema and video art and to question pictorial traditions.
Each work complex is preceded by an interview excerpt conducted by the artist together with art historian Darja Zub. General insights into bathing are provided by Anna Mayr's essay "Zurück in die Wanne" (Back to the Bath), published in ZEIT Magazin in 2019, and the poem "In the Bath" by Jo Shapcott with a German translation by Jan Wagner. In terms of art theory, the illustrated book is supplemented with texts by Philipp Bollmann (curator, Wemhöner Collection) and Dr Thomas Girst (art historian and cultural manager).
The bilingual publication "Let me draw you a bath" (German, English) now presents the artist's work in art historical discourse for the first time.
Kennedy's monograph published by SHIFT BOOKS Berlin
"Let me draw you a bath", cycle of works with four works on the theme of the bathtub, 216 pages, 18 x 25 cm, softcover with open binding, produced sustainably and vegan, published by SHIFT BOOKS, 2021.
Bianca Kennedy
Bianca Kennedy (b. 1989, Leipzig) lives and works in Berlin. Using animation, video, virtual reality, found footage and drawing, she creates parallel worlds by transforming or recombining opposing contexts. Kennedy's focus on physicality, black humour and disturbing elements addresses human and animal desires.
Kennedy has exhibited internationally in museums and festivals. Recent exhibitions include SCAD Museum of Art (2021), Krinzinger Schottenfeld Vienna (2021), Kunsthalle Baden-Baden (2020), Museum der bildenden Künste Leipzig (2020), CCBB Rio de Janeiro (2019) and Sundance Film Festival (2020). She is a winner of the LOOP Discover Award 2018 and won the TOY Berlin Masters Prize in 2019.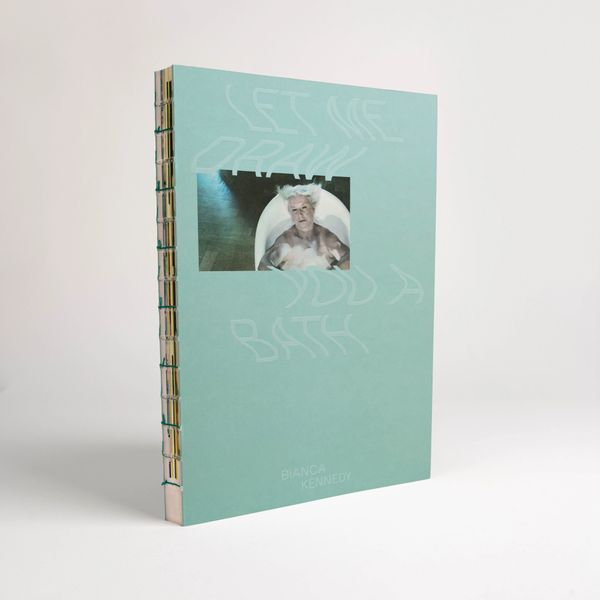 https://shiftbooks.de/?lang=en, SHIFT BOOKS
https://shiftbooks.de/shop/let-me-draw-you-a-bath/, SHIFT BOOKS
More information about the product
Brand: SHIFT BOOKS, Melikov & Dettler GbR
SHIFT BOOKS, Melikov & Dettler GbR
Schonensche Str. 5
10439 Berlin
Germany