Notepad

Your notepad

You don't have any products on your notepad yet.
NEOfris eco DreiNatura®
Product information of the company:
Gentle universal cleaner based on alcohol without greasing or film-forming substances. The cleaned surfaces dry quickly, without residues, streak-free. With glossy alcohol, gentle and fresh.

Suitable for cleaning all water-resistant surfaces and floor coverings such. As glass, plastic, ceramic wall and floor tiles, laminate, sealed wooden floors, PVC, linoleum, artificial and natural stone floors.

• HACCP certificate available.
• CLP labeling free

Ingredients: <5% nonionic surfactants

Other ingredients: cleaning alcohols, technical aids-, dyes-, fragrances

Application: In normal soiling, add 20 ml of NEOfris eco DreiNatura® to 8 liters of water and carry out the cleaning as usual. For heavier soils, NEOfris eco DreiNatura® can be dosed at a higher rate (40 ml / 8 L water). For the correct dosage please use TOPDOS.

pH at application concentration approx. 7

Note: For professional use only. The correct dosage and the use of maximum handwarm water reduces both water pollution and energy and water consumption. Only completely empty the packaging of the recyclable waste collection. Fill 1 liter bottle with 10 liter canister.

Do not mix with other cleaning agents.

EU-ECOLABEL: DE / 020/388
Blauer Engel: www.blauer-engel.de/uz194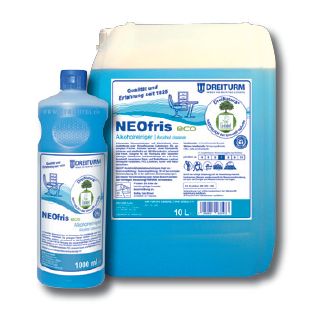 Gebindearten, Dreiturm GmbH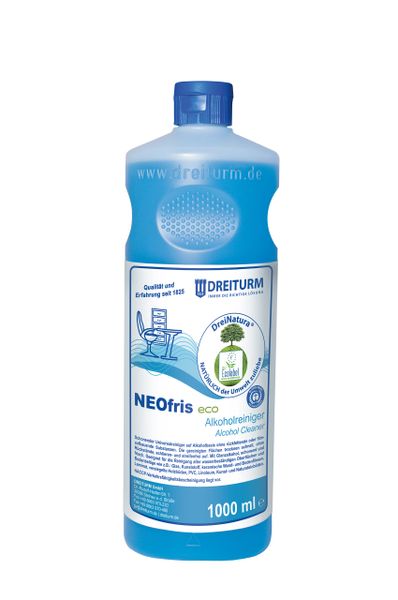 1 Liter Rundflasche, Dreiturm GmbH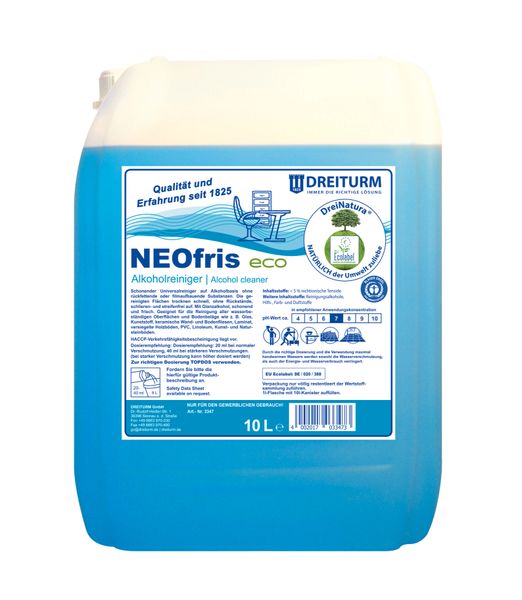 10 Liter Kanister, Dreiturm GmbH

DREITURM GmbH
Dr.-Rudolf-Hedler-Str. 1
36396 Steinau an der Straße
Germany