Notepad

Your notepad

You don't have any products on your notepad yet.
Knapzak Abdeckblätter Covering foils from regenerated material
Product information of the company:
Machine foils and cover sheets, various designs.
Company product information:
Machine films and mother films, pallet cover sheets and pallet cover films.
Ecologically sensible, sustainable and good.
Excellent quality machine films for further processing for all types of outer packaging.
Pallet cover sheets and films as blanks perforated on roll or as continuous film.
Cost-effective and environmentally friendly.
Tear and puncture resistant made of at least 80% regenerated material.
In times of scarce resources, Knapzak Benelux faces the challenge of producing high-quality and at the same time environmentally friendly film products.
As a manufacturer and international supplier of polyethylene films, we have a big heart for the environment. We work - wherever possible - with secondary raw materials from post-consumer recycling (PCR) for our products.
Our mission: to help protect nature, the environment and the climate, and to reduce costs. More and more customers are looking for environmentally friendly films, which are indispensable in many areas for product and transport protection.
The focus is on recycled raw materials, i.e. regenerates, whose quality - adapted to the wishes of our customers - is continuously being further developed.


Our Ecothene® film was developed with savings and environmental considerations in mind. It combines first-class product properties, on the one hand due to the manufacturing process as COEX/multilayer film and on the other hand due to its special raw material composition.
Films for food packaging, smallest waste bags for households, high-capacity and volume bags, waste bags and sacks for industrial disposal, construction and cover films, vapor barrier films with the Blue Angel, finest pallet cover sheets or shrink films with regenerate content are our profession.
The demands and needs of our customers are sacred to us, and we do everything we can to develop suitable solutions.
Whereas in the past, material performance and costs were the main focus, today recyclability and a holistically conceived circular economy are the defining issues. We will use this change as an opportunity: With its low weight, high functionality and recyclability, plastic has all the properties needed to make a decisive contribution to climate neutrality.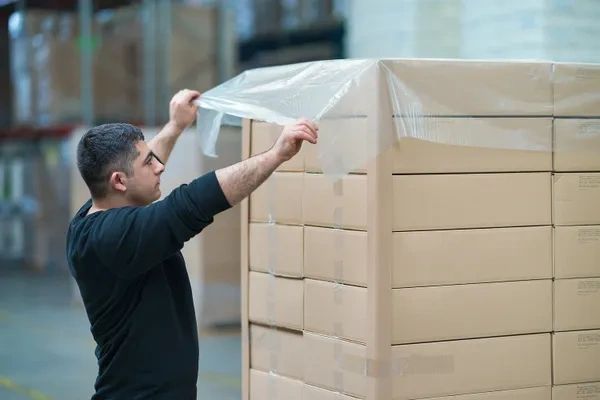 Machine foils and cover sheets, various designs.
More information about the product
Brand: Knapzak Abdeckblätter