Notepad

Your notepad

You don't have any products on your notepad yet.
HP Color LaserJet Managed MFP E87650du
Product information of the company:
The HP multifunction colour laser printing system HP Color LaserJet Managed MFP E87650du is awarded with the Blue Angel according to DE-UZ 219 in Germany for meeting more than 100 strict criteria. The Blue Angel User Information for this and further HP printing systems can also be accessed >> here on the HP website.
Certification of HP printing systems according to the award criteria DE-UZ 219 is conducted with original HP cartridges only. This includes HP toner cartridges as well as HP ink cartridges. If HP printing systems are operated with non-HP cartridges, HP cannot ensure compliance with the respective award criteria.
Print/copy speed: up to 50 pages per minute
+++++++++++++++++++++++++++++++++++++++++++++++++++++++++++++++++++++
Safety and the environment
The HP Color LaserJet Managed MFP E87650du offers a wide variety of safety and environmental features. The printing system fulfils a multitude of requirements of the 'HP Design for Environment' programme as well as of the following eco criteria:
Energy:

meets criteria of Energy Star® | The power consumption of a device depends on its features and use.

Emissions:

low emissions in accordance with DE-UZ 219; contribution to indoor air concentrations far below relevant international standards (German AGW, Europ. BOELV, US PEL).

Noise:

low noise emissions in accordance with DE-UZ 219.

Paper use:

suited for the use of recycled paper acc. to EN 12281; paper-saving option with duplex printing.

Return and recycling:

free return and recycling of original HP toner cartridges via the 'HP Planet Partners Programme'.

Longevity:

availability of exchange and spare parts for at least five years after end of production.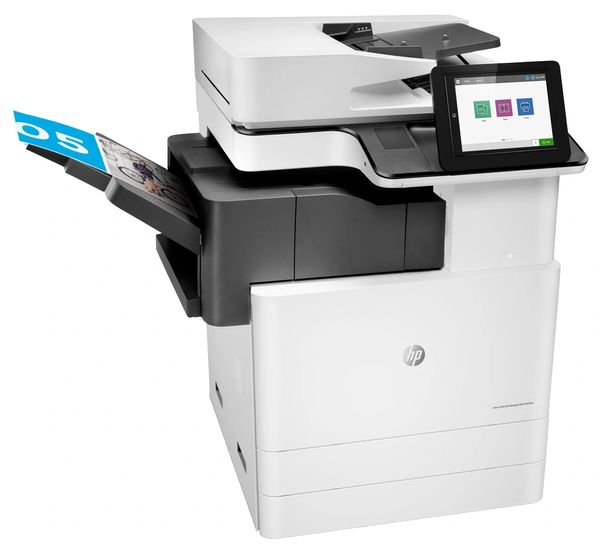 More information about the product
HP Europe,B.V.,Amsterdam (only DE, AT,CH,FR,UK,IE,SE, DK,FI,NO,BE,NL,LU, IT,ES,PT,PL,CZ,SK, Sl,HU,HR,RO,BG,EL, EE,LV,LT,RS,TR,IL, MA,ZA)
150 Route du Nant d'Avril
1217 Meyrin
Switzerland