Notepad

Your notepad

You don't have any products on your notepad yet.
Diessner CleanAir Satin (Farbton weiß)
Product information of the company:
Silk gloss dispersion indoor paint for indoor use
- Water-dilutable
- ELF extra = emissions minimised
- solvent and plasticizer-free
- No preservatives
- Free from fogging-active substances
- Structure preserved
- Durable
- Good development
- Good coverage
- Lightly applicable
- Resistant to damp disinfectants
- Eco-friendly
- Odourless
- Diffusible
Intended use:
Silk gloss premium dispersion paint for indoor use. Low emission as well as solvent, plasticiser and preservative
free. With excellent application features, in particular in the application and distribution of material. This means
that large surfaces can be quickly and effectively painted. Especially thin and good at holding its structure. The
ELF extra property makes it excellent for sensitive residential and commercial areas. Tested by the Institute for
the Environment and Health and certified as suitable for people with allergies. Also tested for application in
spaces where food is stored or prepared. Resistant to damp disinfectants.
Allergy information:
Diessner CleanAir Satin is produced without preservatives. The product in the colour white has been tested and
classified safe for allergy sufferers. After tinting, the product no longer meets the Blue Angel criteria.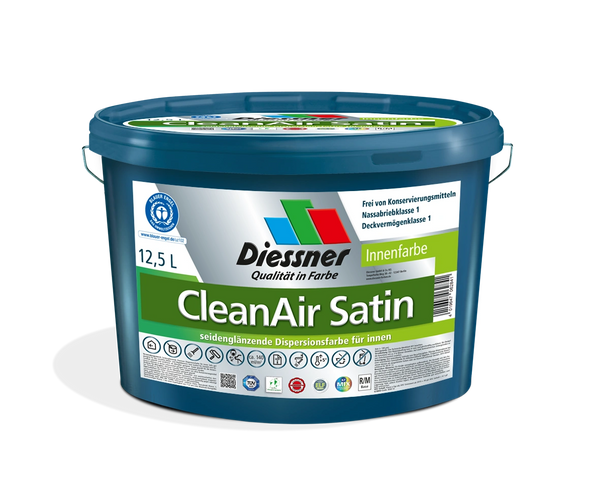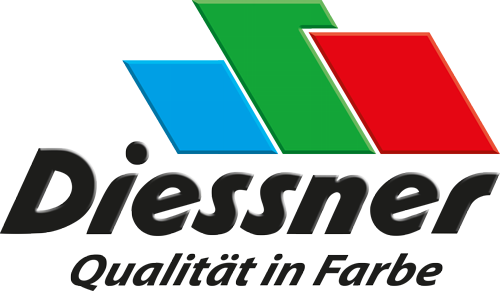 Diessner GmbH & Co. KG Lack- und Farbenfabrik
Tempelhofer Weg 38-42
12347 Berlin
Germany