Notepad

Your notepad

You don't have any products on your notepad yet.
blue Folien, Beutel, Versand- und Sicherheitstaschen aus Recycling-PE
Product information of the company:
Our ECO-Mailer envelopes are largely made of recycled film (PCR, post consumer regranulate), are "Blue Angel" certified and contain neither plasticizers nor silicone. Disposal by the recipient is simply done via the yellow bag.
These bags are also known as return bags because of their two adhesive strips. Return bags are characterized by two permanently adhesive self-adhesive strips. Between these two adhesive strips there is aperforation through which the recipient can easily open the bags(tear perforation):
The goods are packed and the bag is closed with the outer of the two adhesive strips. The recipient opens the envelope without additional aids at the perforation.
If the customer does not like the item, he can use the same packaging and seal it with the inner adhesive strip - also without any additional aids.
The ECOMMailers are perfectly suitable for all shipping companies and the surface friction coefficient complies with the specifications given by DHL!
In the lower third of the bag is an environmental logo and material note printed. Of course, manufacturer-neutral without reference to Nordwerk. Not only do the goods remain undamaged when opened due to the omission of the use of scissors, knives or other tools - the customer also has a positive purchasing experience when returning the goods. And for the environment is also done something because the same packaging can be used several times before it is recycled.
Bittre note that these bags to a predominant part of already recycled plastic (i.e. waste) consists. The surface of the film can therefore differ slightly from production to production and is much rougher and uneven compared to virgin material (pure new film). However, this is irrelevant to the suitability and intended use. The bags are robust and flexible.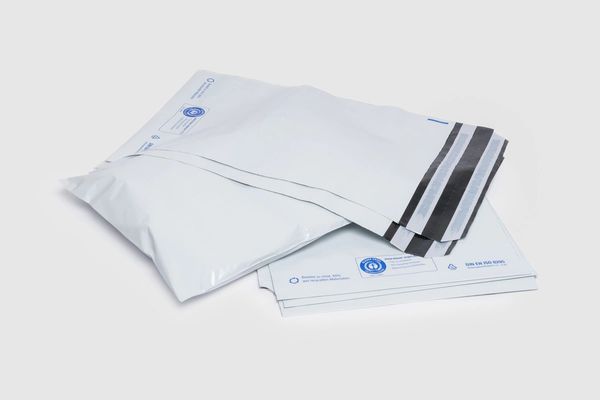 ECOMailer Blue Mailingbags made from regranulate, Nordwerk Verpackungen GmbH & Co.KG
More information about the product

Nordwerk Verpackungen GmbH & Co.KG
Posener Str. 32B
23879 Mölln
Germany