Notepad

Your notepad

You don't have any products on your notepad yet.
bene Büromöbel Programm Partitioning (R-Plattform, NOOXS, NOOXS Think Tank) Oberfläche: furniert-lackiert, Melamin, Stoff
Product information of the company:
NOOXS
Manufacturer: Bene
Design: Pearson Lloyd
Partitioning, modular and free-standing
Intelligent partitioning and great acoustics are crucial factors in creating a productive and pleasant work environment in open-plan offices. However, fixed wall components are costly, not very flexible and contradict the qualities of the open space layout. With NOOXS, Bene is offering a flexible and modular option for creating functional places and spaces in an open office.
Infrastructure aimed at cooperation
NOOXS are solid wall elements which connect to create free-standing niches. These spatial niches can be used for many different functions, such as meetings, touchdown sessions, kitchen areas and many more.
The usage options are highly versatile: NOOXS provides structure to the open space, defines different work areas and provides distinct zones for teams and their many different activities.
Modular interplay
NOOXS is a highly versatile building block consisting of wall elements in 4 widths and 2 heights, which are available in melamine, veneer, fabric, or with a varnished surface. The wall elements have a special acoustic design feature that reduces noise levels in a open space layout.
The technical unit is a special wall element that enables technical equipment, such as cabling and connection plug boards, to be seamlessly integrated. The cabling is within easy reach at all times.
The wall elements are easy to plan and can be used to form a wide variety of architectural spaces with low assembly requirements.
The art of the joint
The key design feature of NOOXS is the perpend joints of the wall elements. These joints that are designed in such a way that the various additional elements, such as brackets for table tops and shelves, white boards etc., can be connected to it anywhere in the 3mm joint. This way, the structures can be easily reconfigured or moved to a new location, saving time and money.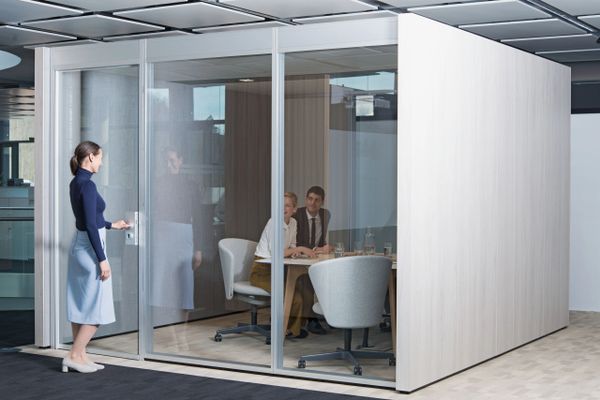 https://bene.com/en/office-furniture-concepts/office-furniture/nooxs-en