Notepad

Your notepad

You don't have any products on your notepad yet.
bene Büromöbel Programm Management (AL Group, P2 Management) Oberfläche: furniert-lackiert, Melamin, HPL
Product information of the company:
P2 Executive Office
Manufacturer: Bene
Design: Christian Horner
Superior casualness
Executive offices appeal thanks to their diffident elegance, clear lines and high-quality workmanship. The P2 Executive Office furniture line features high-quality veneers as primary material components that combine clear design and reduction down to the essentials. A furniture set that takes a back seat and allows the materials, colours and surfaces to take centre stage.
P2 Executive Office furniture that gives spaces a consistent overall look. P2, a furniture line that provides accents through the combination of colours, veneers, glass, aluminium and glossy surfaces. Modern media and information technology are integrated perfectly into this executive desk. Quality becomes apparent in the automatically closing aluminium drawers lined with leather, the premium plug boxes, the perfectly accessible cable management, the various surface and material finishes, the height adjustability of the tables, the LEDs integrated flush in the Boards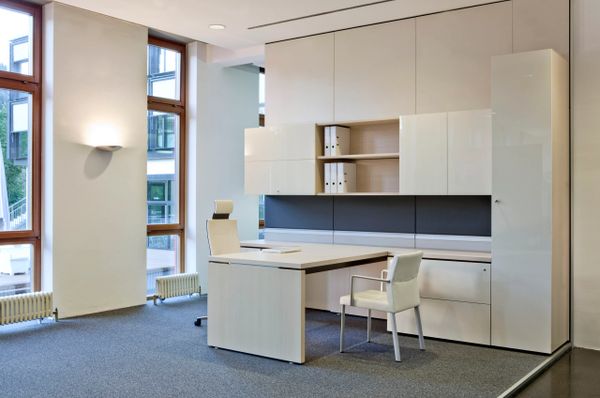 https://bene.com/en/office-furniture-concepts/office-furniture/p2-executive-office/