Notepad

Your notepad

You don't have any products on your notepad yet.
UZIN KE 68 T
Product information of the company:
1-Component Hybrid Adhesive
UZIN KE 68 T
UZIN KE 68 T is a ready to use and user-friendly 1-comp. hybrid adhesive with very low emissions. The compact adjustement of the adhesive is ideal for wall applications. The adhesive is very resistant against heavy loads, high temperatures or humidity. For interior use.
ideal consistency for working on vertical surfaces
for installers with PUR or epoxy sensitization
for areas with high temperatures
Applications
rubber floor coverings in tiles up to 4 mm (e.g. norament®)
luxury vinyl tiles or design floors
PVC and CV floor coverings in sheets and tiles
linoleum in tiles up to 4 mm
PVC wall cladding (e.g. Altro Whiterock, Gerflor Decochoc)
absorbent and non absorbent substrates
deformable or elastic substrates (e.g. underlays, wood, please obtain technical advice for metal)
Extendet Applications:
wooden wall cladding (e.g. wood clinker)
engineered wood flooring on the wall
also suitable for floor applications
Note: Obtain technical advice for additional combinations of floor covering and substrates.
Properties
User friendly
High dimension stability
For universal use
Quality seals and badges
Solvent-free, containing methoxysilane
EMICODE EC 1 PLUS / Very low emission
DE-UZ 113 / Environmentally friendly because of low emissions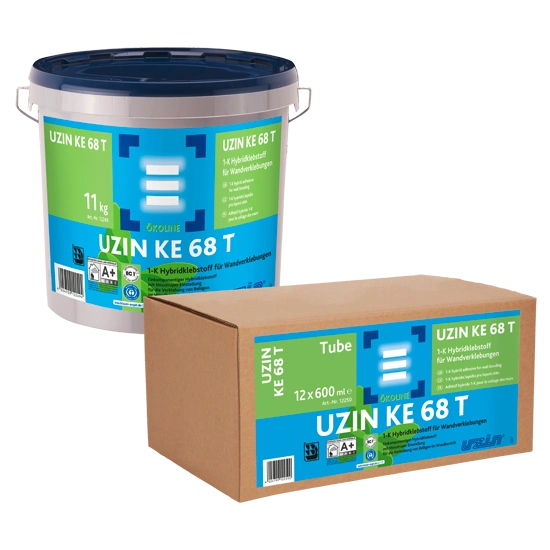 UZIN KE 68 T
More information about the product