Notepad

Your notepad

You don't have any products on your notepad yet.
UZIN KE 2000 SL
Product information of the company:
Conductive Universal Adhesive
UZIN KE 2000 SL
Strong, conductive, dispersion-based adhesive with short open time for use in the pressure sensitive and wet-bed bonding method. For universal use. The premium conductive universal adhesive product.
Powerful - fast tack
Secure - high final strength
Universal - can be used under almost all common types of floor coverings conducting electricity
Ap­pli­ca­tions
for conductive PVC and rubber flooring up to 4 mm thickness
for conductive textile floor coverings
for conductive linoleum sheets up to 4 mm thickness
on absorbent and levelled substrates
on dense, non-absorbent substrates
suitable for warm water underfloor heating
for exposure to castor wheels in accordance with DIN EN 12 529
for heavy wear in residential, commercial, and industrial areas
Prop­er­ties
Excellent working properties
Low consumption
Long working time
Pronounced conductivity stability
High shear resistance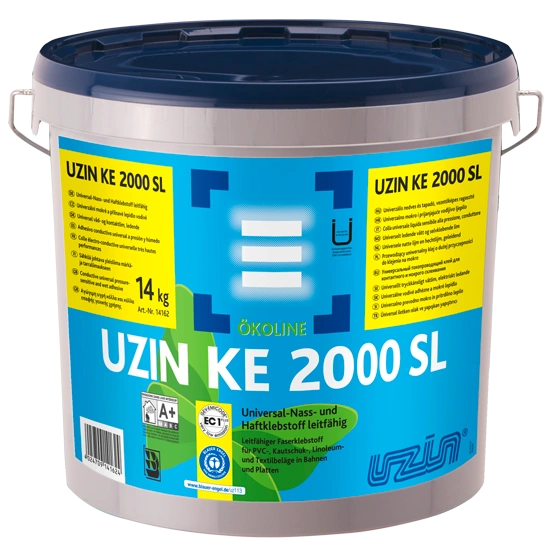 More information about the product