Notepad

Your notepad

You don't have any products on your notepad yet.
UZIN KE 2000 S
Product information of the company:
UZIN KE 2000 S Universal Adhesive
Universal Pressure-Sensitive and Wet Adhesive
Strong dispersion-based adhesive with short open time for application with the pressure sensitive, wet set adhesive and double-drop bonding method. The premium universal adhesive product.
powerful - fast tack
Secure - high final strength
Universal - can be used under almost all common types of floor coverings
Area of application
for homogeneous and heterogeneous PVC or cushioned vinyl floor coverings in sheets and tiles
for rubber flooring in sheets (e. g. noraplan up to 4 mm)
for textile floor coverings with all common backings
for light needle punch or woven carpet
for linoleum sheets up to 3.2 mm thickness
on absorbent and levelled substrates
suitable for warm water underfloor heating
for exposure to castor wheels in accordance with DIN EN 12 529
for heavy wear in residential, commercial, and industrial areas
Extended area of application
for chlorine-free Enomer floor coverings (e. g. Upofloor LifeLine)
for PUR floor coverings in sheets upt to 2 mm (e. g. WPT PURline)
for Flotex
for wall coverings and sports flooring
for corkment and for all UZIN Insulation and installation underlays
Properties
Odourless during and after application
Excellent working properties
Good tack with stringing
Low consumption
Long working time
Applications
for homogeneous and heterogeneous PVC or cushioned vinyl floor coverings in sheets and tiles
for rubber flooring in sheets (e.g. noraplan® up to 4 mm)
for textile floor coverings with all common backings
for light needle punch or woven carpet
for linoleum sheets up to 3.2 mm thickness
on absorbent and levelled substrates
suitable for warm water underfloor heating
for exposure to castor wheels in accordance with DIN EN 12 529
for heavy wear in residential, commercial, and industrial areas
Extended application field:
for chlorine-free Enomer floor coverings (e.g. Upofloor LifeLine®)
for PUR floor coverings in sheets up to 2 mm (e.g. WPT PURline®)
for Flotex
for wall coverings and sports flooring
for corkment and for all UZIN insulation and installation underlays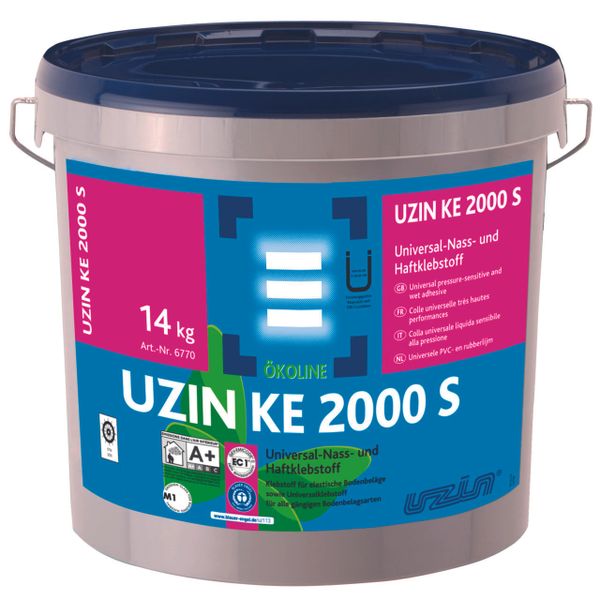 More information about the product