Notepad

Your notepad

You don't have any products on your notepad yet.
KETTLITZ-Medialub 2000
Product information of the company:
KETTLITZ-Medialub 2000
- technical information -
The chain saw oil KETTLITZ-Medialub 2000, based on vegetable oils, is free of synthetic and mineral oils. Special additives protect the product from untimely aging resp. resinification, optimize the viscosity and improve adhesive and lubrication properties. The effect is a low wear of chain and chain wheel. Due to the additives the product can also be used under extreme winter conditions (cold test for 72 h at -18 °C was fulfilled).
The KWF (The Board of Trustees for Forestry Work and Technology) confirmed very good lubricating properties by an extended test. The use of this oil under professional conditions in forestry work both in chainsaws and harvesters was rated "well satisfied". Medialub 2000 is regarded as recognized chain oil and bears the test mark "KWF-test bio chain oil".
Medialub 2000 is produced on the basis of rape-oil. It is not soluble in water, so when normally used or e.g. leakage occurs, the product mainly stays in the upper ground layers and therefore does not reach the ground water.
Besides, Medialub 2000 meets the criteria of the German certification for environmentally beneficial products, the "Blue Angel" (RAL-UZ 178) and in addition it fulfils the criteria for the "EU Ecolabel" (Reg. no: DE/027/179).
For both eco-labels the proportion of renewable raw materials was determined by the DIN method CEN / TS 16137 (DIN SPEC 91236). The value is about 95%.
Medialub 2000 is also implemented in the data base of the FNR (Fachagentur Nachwachsende Rohstoffe e.V.).
Chemical Characteristics: Chain oil based on vegetable oils, containing additives
Appearance: Transparent, greenish liquid
Viscosity at 40 °C (mm²/s): 100 ± 10 %
Storage at low temperature (72 h/-18 °C): Liquid
Storage Stability: 4 years under suitable storage conditions
Please note: Do not mix Medialub 2000 with synthetic or mineral oil.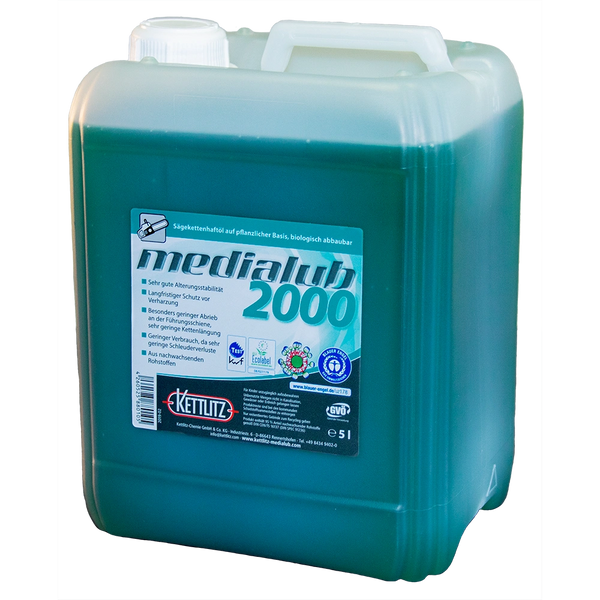 KETTLITZ-Medialub 2000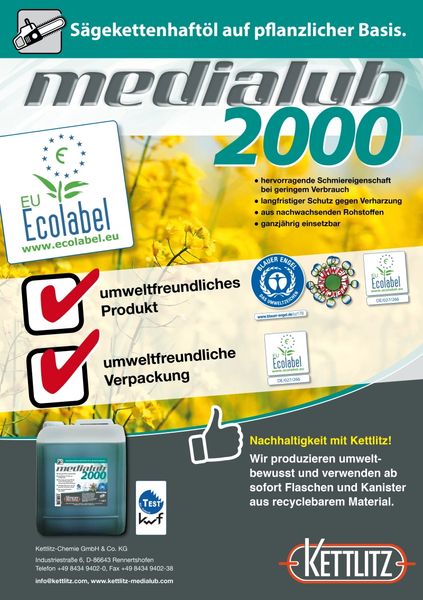 KETTLITZ-Medialub 2000
More information about the product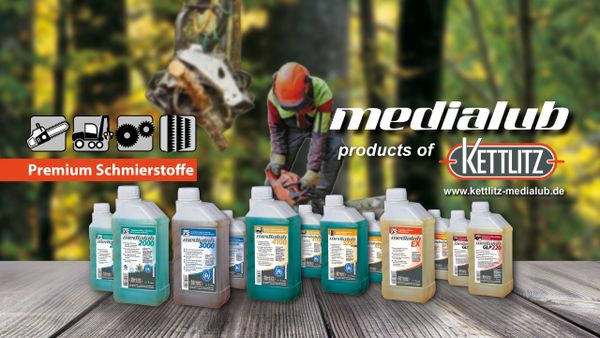 Kettlitz-Chemie GmbH & Co.KG Chemische Fabrik
Industriestraße 6
86643 Rennertshofen
Germany