Notepad

Your notepad

You don't have any products on your notepad yet.
Interface Composure
Product information of the company:
Interface, Inc. is a global commercial flooring company with an integrated collection of carpet tiles and resilient flooring, including luxury vinyl tile (LVT) and nora® rubber flooring. Our modular system helps customers create interior spaces while positively impacting the people who use them and our planet.Our mission, Climate Take Back™, invites the industry to join us as we commit to running our business in a way that is restorative to the planet and creates a climate fit for life.
Composure with Graphlex® Backing
Composure´s natural inspiration shows in the design and practical benefits. The refreshed palette takes on more colour, with both chalky pastels and poppy brights which can be used in isolation or using tonal colours together to create a transitional effect from light to dark
The tufted patterned structured loop pile from 100% solution dyed nylon contains 75% recycled content. The flooring products that we sell – carpet tile, LVT, and nora rubber sheets and tiles – are carbon neutral across their full product life cycle. For end-of-life we offer different options and make sure they don't go into landfill.
Our default Graphlex® backing offers a great blend of comfort, durability, sustainability and acoustic performance and is available in size 50 x 50 cm.
It is compatible with our glue-free TacTiles® system and forms the sturdy foundation for wall-to-wall installations that will never warp, wrinkle or dome – not even under extreme changes in temperature and humidity.
For those looking to demonstrate more of an environmental focus, we offer CQuest™Bio.
See link at the bottom of this page.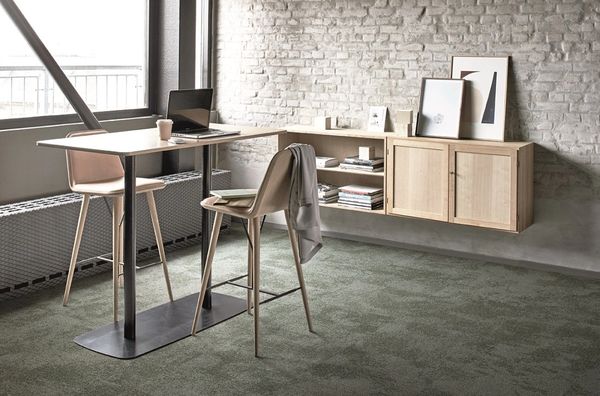 Composure, ©Foto: Interface
More information about the product
Brand: Interface Composure