Notepad

Your notepad

You don't have any products on your notepad yet.
Aviaticon SKM HV Bio 220
Product information of the company:

AVIATICON SKM HV Bio 220 is a biodegradable saw-chain medium on a vegetable basis for heavy-duty machining, KWF tested with Blue Angel.

In the fields of forestry and woodworking, adhesive oils based on mineral oils are used. Mineral oils and also the synthetic oils used as an alternative (alkylates) are not quickly biodegradable. Dripping and penetration into the soil cannot be avoided in many applications, e.g. the use of block traction oils, saw chain oils, adhesive oils, slideway oils and transport chain oils.

AVIATICON SKM HV Bio 220 gives a wide range of applications due to its good natural viscosity temperature behaviour. At temperatures in the plus range from about +70 °C, the product shows significantly higher viscosity values than mineral oil adhesive oils. At minus temperatures these products remain more pumpable than mineral oils, the viscosity increase is lower. The adhesive medium AVIATICON SKM HV Bio 220 contains a higher proportion of adhesion-improving and wear-reducing active ingredients.

Contains no mineral oil, is free of chlorine, PCB, PCT and other hazardous substances.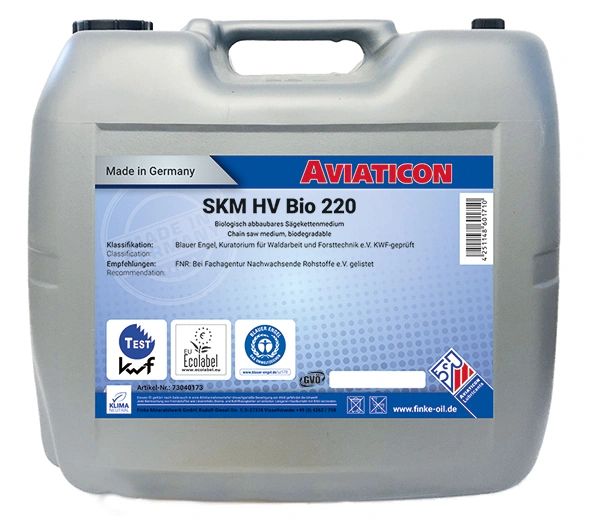 AVIATICON SKM HV Bio 220
More information about the product
Finke Mineralölwerk GmbH
Rudolf-Diesel-Straße 1
27374 Visselhövede
Germany