Notepad

Your notepad

You don't have any products on your notepad yet.
ALI GLUE WALL MS LVT
Product information of the company:
ALI Glue Wall MS LVT is a one-component, silylated polymer-based adhesive, formulated in a ready to use beige paste. The adhesive performs very good in terms of shear and peel adhesion strength, as well as dimensional stability, therefore is particularly suitable for LVT floorings. Once hardened, which takes place by chemically reacting with the moisture in the air, ALI Glue Wall MS LVT forms a though film resistant to moisture, water and heat that forms a strong bond on all materials normally used in the building industry.
Product properties:
· easy and ready to use, no mixing required;
· excellent wetting even with impervious coverings;
· high adhesion onto all substrates commonly used in construction;
· it can be used on walls without leaking and without letting slip the LVT;
· fast setting, even at very low temperature;
· very high peel and shear strength;
· very good dimensional stability;
· easy to clean from hands and from the surface of floorings;
· exposure to chair castors in accordance with EN 12529;
· not inflammable;
· EMICODE EC1 Plus (very low emission);
· Blauer Engel - DE-UZ 113;
· suitable for installers who are sensitive to epoxy and epoxy/PU products;
· suitable for heavy wear use in domestic, commercial or industrial locations, when a Blauer Engel installation system is required.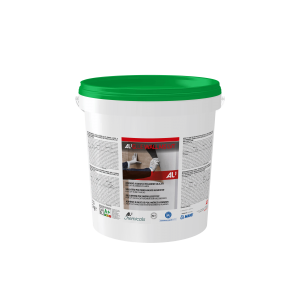 More information about the product
ALI S.p.A.
via degli Aceri, 7
47892 Gualdicciolo, Repubblica San Marino
Italy