Notepad

Your notepad

You don't have any products on your notepad yet.
WAKOL A 830 Levelling Compound
Product information of the company:
Area of application
Levelling Compound based on calcium sulphate for treating unevenness in layer thicknesses of 1 to 20 mm unextended, extended of 10 to 30 mm under textile and elastic flooring indoors; as of 2 mm layer thickness also underneath parquet. Can be processed in combination with WAKOL D 3060 Plastification Additive. Especially suitable on calcium sulphate bonded subfloors, dry extension elements, wooden material tiles and on cast asphalt concrete. Can be applied with a rakel. Can be pumped.
Mixture:
approx. 6,0 l water + 25 kg A 830
Consumption:
approx. 1.5 kg/m²/mm application thickness
Setting time:
suitable for walking after 2 h; ready for laying up to 3 mm after 24h; 3-10 mm every mm 24 h drying time, ≥ 11 mm CM measurement (residual humidity < 0.5 CM%)
Pot life:
approx. 25 min.
Storage information:
store in a cool and dry place
CE marking:
EN 13813:2002 CA-C30-F7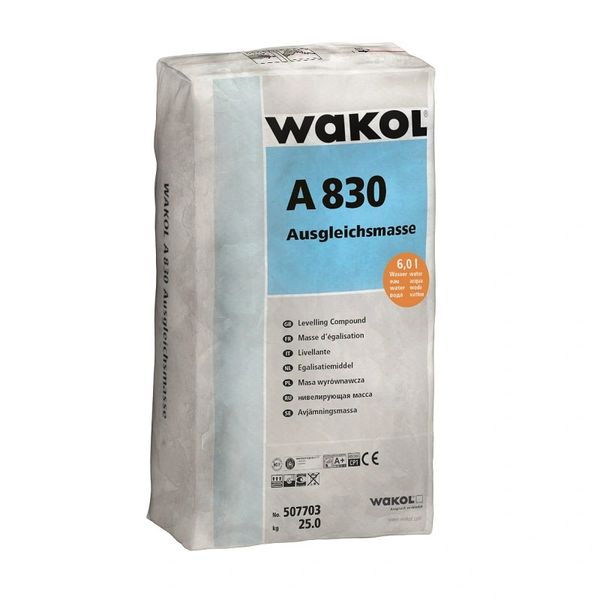 Wakol Laying Materials
More information about the product