Notepad

Your notepad

You don't have any products on your notepad yet.
THINK King men's boot oceano/kombi
Product information of the company:
The KING lace-up shoe is sporty and classy. The skilful mix of suede and smooth leather is particularly impressive on this shoe. The leathers are tanned chrome-free, as is the lining leather. This is how sustainability works at Think! The lacing allows the KING shoe to be individually adjusted to the foot, which guarantees an excellent fit and optimal support. The new KING sole was developed based on the best-selling shape for men, KONG. It has less profile, but is just as grippy. It is also made of light gum and is therefore 40% lighter than the KONG model. The KONG lace-up is repairable and has replaceable insoles with a latex cork core. So it stays with its wearer for many winters.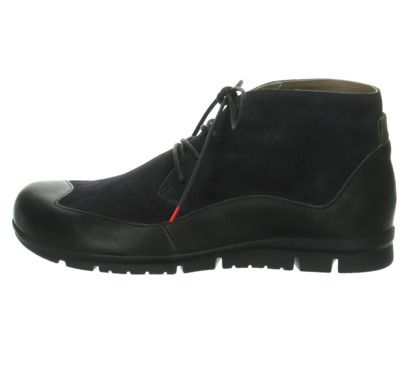 KING men's boots oceano/kombi, ©Think!/thinkshoes.com
More information about the product