Notepad

Your notepad

You don't have any products on your notepad yet.
THINK DUMIA women's sandals schwarz
Product information of the company:
Take sustainability a step further with Think!
Individual, sustainable, durable! Think! shoes have been made using traditional craftsmanship in Kopfing, Austria for over 30 years. In doing so, Think! has shown itself to be a true pioneer when it comes to holistic sustainability: ecological production conditions, occupational safety, good social conditions, and a responsible approach to the environment and our resources are heartfelt concerns for the company.
For this, Think! was the first shoe manufacturer to receive two of the most stringent sustainability certificates currently available for shoe production: the government-awarded Austrian Ecolabel and the Blue Angel – two generally recognised symbols that identify environmentally friendly products according to particularly strict criteria. DUMIA is a natural talent. The lightweight deep footbed sandal is anatomically shaped, giving the foot perfect support while the deep footbed hugs the foot for optimal wearing comfort. The sandal is made from chrome-free tanned goatskin that gently nestles against the foot. DUMIA offers ample space in the toe box and is therefore suitable for almost all foot types. The playfully arranged straps give DUMIA a summery look and ensure optimal support. Typical Think! These shoes can be repaired so you can enjoy them for a long time. And, of course, that means less waste. Comfortable, sustainable, individual and unique – these are the characteristics that distinguish Think! shoes.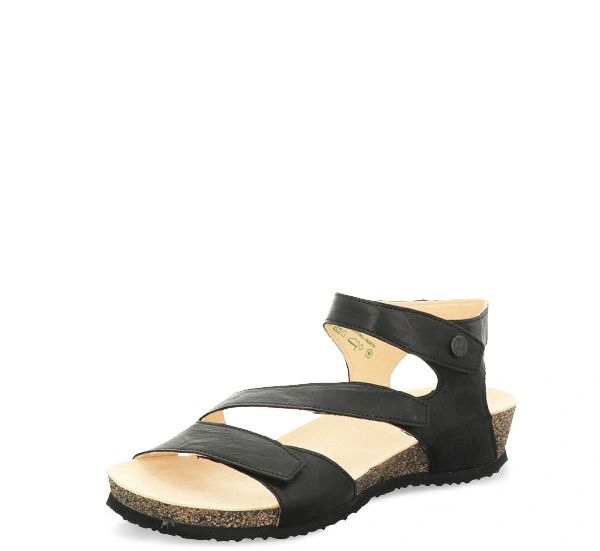 DUMIA women's sandals schwarz, ©Think!/thinkshoes.com
More information about the product