Notepad

Your notepad

You don't have any products on your notepad yet.
SILVANA NATURAL Office paper (copy paper and multipurpose paper)
Product information of the company:
SILVANA 100% COMMITMENT
Silvana is our highly sustainable, 100% recycled paper with FSC® Recycled or PEFC ® Recycled certification. It offers the print performance and texture of a non-recycled paper with an authentic natural look.
Silvana Natural is available in uncoated varieties (ISO 80) manufactured without added optical brighteners (OBA).
Designed to reflect your commitment to the environment, Silvana offers outstanding printability with the best opacity to minimize show through.
SILVANA is a recycled paper of excellent quality, pleasant texture and a unique delicate tone.
Let SILVANA speak for itself!
• 100% committed to the environment.
• 100% recycled fibre.
• Manufactured respecting the most demanding environmental certifications.
• Manufactured with low energy consumption, water and CO2 emissions compared to the manufacture of virgin fibre papers.
SILVANA 100% APPLICATIONS
Print:
• Offset (Dry offset, Wet Offset, Heat Set Web Offset and Cold Set Web Offset)
• Digital (HP Indigo, Toner)
• Laser Personalization
Inks: All inks suitable for uncoated paper (Offset)
Varnish: Yes
Lamination: yes
Binding: Spiral, sewn and adhesive.
CERTIFICATES
EU Ecolabel: ES-CAT / 011/001
FSC 100% Recycled: License C021236
PEFC 100% Recycled: License 14-33-00017
DER BLAUE ENGEL: (Silvana Natural)
ISO 9001: Quality management
ISO 14001: Environmental management.
ISO 50001: Energy management.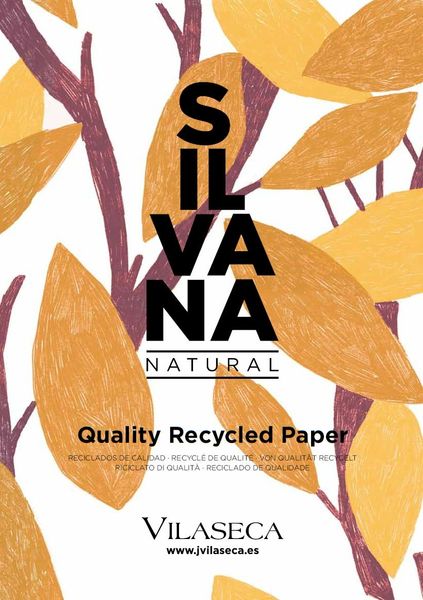 SILVANA NATURAL
VILASECA (J.) S. A.
Amador Romani, 55
08786 Capellades, Barcelona
Spain