Notepad

Your notepad

You don't have any products on your notepad yet.
EMBLEM Eco Recycle Paper EMBLEM Eco Recycle Paper
Product information of the company:
EMBLEM Eco Recycling Paper 130 is a recycled paper, which is made out of 100% secondary raw materials. The paper has a pleasant haptic by its volume and a special surface coating. This also ensures a lower ink consumption in printing. The EMBLEM ERP130 can be printed with common latex and UV inks.
From ecological point of view the paper offers some advantages, because it is produced resource-saving. During the production about 70 percent water and 60 percent energy are saved compared to fresh fibre paper. This reduces CO2 emissions and conserves natural resources. Furthermore, no chlorine or halogenated bleaching agents are used to bleach the paper.
In terms of sustainability, the ERP130 is very environmentally friendly, it is PVC free and FSC® Recycled (FSC-C119162) certified.
Typical large format printing indoor applications are photorealistic prints, posters, POS advertising, displays and signs.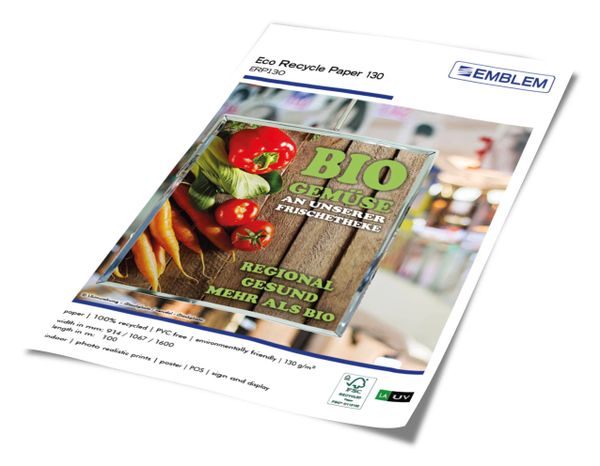 EMBLEM Eco Recycle Paper 130, © Ukimurakung - iStockphoto / nerudol - iStockphoto
More information about the product
Brand: EMBLEM Eco Recycle Paper