Notepad

Your notepad

You don't have any products on your notepad yet.
Diessner CleanAir Matt (Farbton weiß)
Product information of the company:
Interior Dispersion Paint
· Water-dilutable
ELF extra = emissions minimised
solvent and plasticizer-free

No preservatives
· Free from fogging-active substances
· Resistant to damp disinfectants
· Very easy to apply
· Eco-friendly
· Odourless
- Diffusible
Intended use
Special class of flat interior paint. Particularly low emission as well as solvent, plasticiser and preservative free. Resistant to damp disinfectants. High-quality wet abrasion class 2 interior paint in one-coat quality for new and renovation coats. Easy and efficient application. The ELF extra property makes it excellent for sensitive residential and commercial areas. Fast drying, so that surfaces can be used again quickly.
Allergy information
Diessner CleanAir Matt contains no preservatives. The white colour of this product has therefore been certified safe for people with allergies. After tinting, the product no longer meets the Blue Angel criteria.


Technical specifications
Binding agent base plastic dispersion in accordance with DIN 55947
Pigment base Titanium dioxide
Test reports / certificates
IUG test report: Suitable for allergy sufferers, Test report no.: 2480 2018 19
ISEGA test report: Food grade - 44751 U 18
TÜV test report: Certified low emission, certificate no.: TM-07/180529-3
Blue Angel: particularly environmentally friendly
Classification according to DIN EN 13300
Gloss level: Dull flat
Wet abrasion: Class 3
Contrast behaviour: Coverage class 1 with a yield of 7 m² per litre
Maximum grain size: Fine (< 100 µm)
Density approx. 1.47 kg/L

Colour white
Tinting Can be tinted with Diessner KF-MIX system at the factory or select locations. For more information phone +40 30 / 60 00 02 60. Please request a consultation for tints outside the Diessner KF-MIX system. The colour accuracy of the colours delivered should be checked before use. Refer to BFS data sheet no. 25. Tints can change the advertised properties. Colours can change over time depending on pigmentation, light incidence and the existing surface (e.g. sealants, materials with plasticizers, etc.).
Container size 5 litre and 12.5 litre container


Storage Store in a cool, frost-free place. Can be stored for 24 months unopened. Seal opened containers tightly and use as quickly as possible.
Coverage On smooth surfaces 140-150 ml/m² per coat. Textured surfaces accordingly require more, if necessary apply a test coat to determine property-specific deviations.
VOC content class A/a type wb VOC limit from 2010 = 30 g/l, VOC content <1 g/l
Product - Code
paints and varnishes BSW 10
Hazard labels None
Declaration of ingredients Plastic dispersion, titanium dioxide, calcium carbonate, silicate, water, additive.
Special instructions Keep out of the reach of children. In case of contact with eyes, rinse immediately with plenty of water. If applicable, remove contact lenses and keep rinsing. When paint spraying, do not inhale the paint mist and use an A2/P2 combo filter for paint spraying. Use a P2 dust filter and safety goggles when sanding. Ensure adequate ventilation during application and drying. Avoid eating, drinking and smoking whilst using the paint. Do not allow to enter sewer systems, bodies of water or the soil. Remove paint splatters from any type of surfaces with water whilst wet. For more information see EC safety data sheet.
Disposal Only recycle fully emptied containers. Take residual liquid material to an authorised collection point for paint/varnish waste. Dried out residual material can be disposed of as hardened paint or household waste. EWC - waste code no. 080112.
Guidelines for Application
Layering coats Apply an even coat, only diluted with approx. 5% water when necessary. On high contrast, strong or variably absorbent surfaces, we recommend a base coat.
Application process Can be applied with paintbrushes, rollers and airless devices.
Airless application Nozzle 0.021" Pressure 160 - 190 bar Spray angle approx. 50°
Processing and drying temperature
Application temperature
+ 5°C surface, ambient and drying temperature.
Drying time At + 23 °C and 50% rel. humidity, dust-dry and ready to re-coat after approx. 6 hours. At lower temperatures or higher humidity, the drying time will be longer.
Cleaning tools/
airless tools Clean the tools/devices with water immediately after use.
Please note
To avoid bumps on large surfaces, a quick wet on wet coat is necessary. For airless application, mix the paint thoroughly before use and if necessary dilute and strain. Improvements to the surface can stand out depending on the surface and lighting conditions (observe BFS data sheet 25).
Preparing the surface
The surfaces must be secure, dry, free of dirt, efflorescence, discolouration, fungi, sintered layers, powdered layers, and separable substances. Any old coatings must be checked for suitability, adhesion and paintability. Please refer to VOB, part C, DIN 18363, paragraph 3, the relevant BFS data sheets and technical data sheet 001.
Notes on gypsum-based putty
Under unfavourable drying conditions, gypsum-based putties that are level with the substrate at "zero" can swell, form bubbles and flake off due to the moisture in the paint coating and lead to adhesion problems later on. For this reason, the suitability of the various materials must be checked in advance and data sheet No. 2, Filling gypsum boards of the Federal Association for the Gypsum and Plasterboard Industry, must be observed. In individual cases, subsequent reinforcement with a non-pigmented, transparent primer (Diessner CleanAir Tiefgrund (CleanAir Penetrating Primer)) should be tested on a sample surface. In case of doubt, the gypsum-containing filler layer must be removed or, if the substrate requires levelling work, dispersion-bonded fillers (Diessner CleanAir Akkord Flächenspachtel (Surface Filler)) should be used and pre-treated with a primer coat of Diessner CleanAir Tiefgrund (Penetrating Primer).
Filling surfaces containing gypsum, which have been produced in a load-bearing thickness, must be levelled with a pre-coating of Diessner CleanAir Tiefgrund (Penetrating Primer).
Note
The details in this technical information are compiled to the best of our knowledge and comply with our most current application technology. However, these details can only provide non-binding recommendations, as the suitable technique varies according to the actual surface conditions and can typically only be determined on the actual object. Please note any special conditions at the site. Legal obligations cannot be derived from the information listed above.
Since the different base surface materials and the working conditions are out of our control, we recommend performing sufficient tests, to ensure our products are suitable for the intended application and processes.
This technical data sheet replaces all previous versions.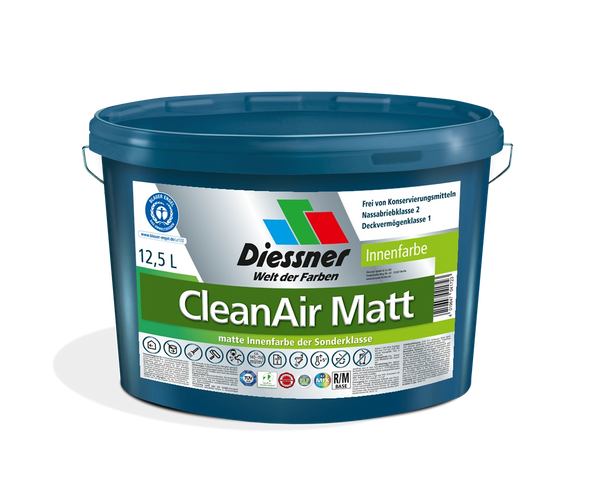 More information about the product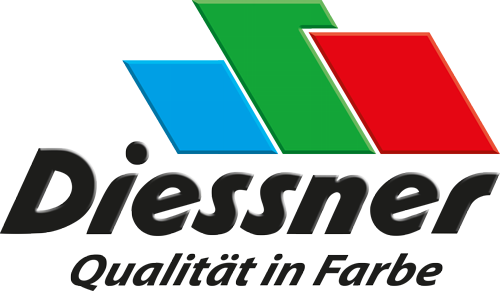 Diessner GmbH & Co. KG Lack- und Farbenfabrik
Tempelhofer Weg 38-42
12347 Berlin
Germany