Notepad

Your notepad

You don't have any products on your notepad yet.
ritter toaster volcano 5, volcano 3, ET 10
Product information of the company:
The toaster series from ritterwerk GmbH have been awarded the Blue Angel seal. This makes the company from Gröbenzell near Munich the only manufacturer of household appliances in the world whose toasters are currently allowed to bear the label since they are particularly excellent energy-efficient, climate-friendly products.
The elongated slot toasters can toast two slices at a time and does have an automatic toast food centering, defrosting and reheating function, an integrated bread and roll rack and a crumb tray. The toasting degree is indicated digitally by LED.
With thermally insulated housing, automatic switch-off function if the toast gets jammed and a separate stop button, completely safe toasting is guaranteed. The built-in toaster ET 10 automatically switches off for safety reasons when the device is folded away.
The ritter toasters also convinced the jury with great ease of use and the use of environmentally-friendly materials.
volcano 5, volcano 3 and ET 10 - of course "made in Germany", as all other products by ritter.
Short description
elongated slot toaster for 2 slices of toast

thermal insulated housing with glass panels (volcano 5) or with aluminum panels (volcano 3 and ET 10)

integrated bread and roll rack

memory function of the toasting degree

toasting degree with LED indication

automatic toast food centering

defrosting function

reheating function

automatic switch-off function when toast is jammed

separate stop button to interrupt toasting

crumb tray

set-up mechanism made of steel (only built-in toaster ET 10)

automatic switch-off function for safety when toaster is being folded (only built-in toaster ET 10)
Technical features volcano 5, volcano 3
220-240 V, 850-1.000 W

TÜV-Rheinland/GS, safety category 1, CE

Dimensions: width 38.5 cm height 20.0 cm depth 9.0 cm

weight: 3.0 kg / 2.7 kg
Technical features built-in toaster ET 10
220-240 V, 850-1.000 W

TÜV-Rheinland/GS, safety category 1, CE

Dimensions (folded): width 178 mm, height 75 mm, depth 400 mm

weight: ca. 2.0 kg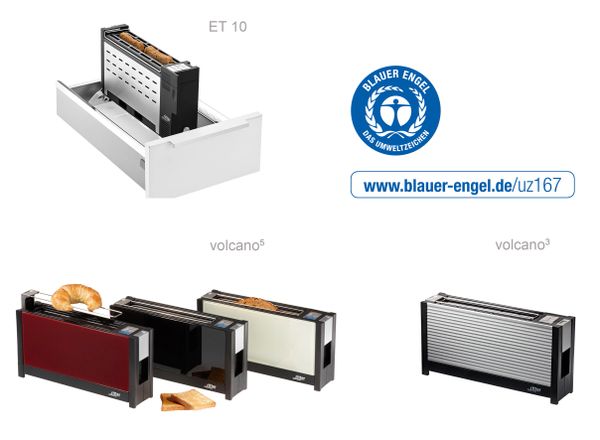 ritter toaster assortment volcano 5, volcano 3 and ET 10, ritterwerk GmbH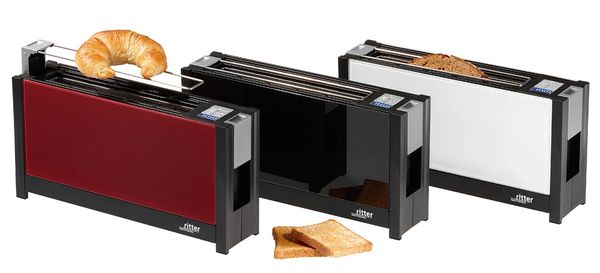 ritter toaster volcano 5, ritterwerk GmbH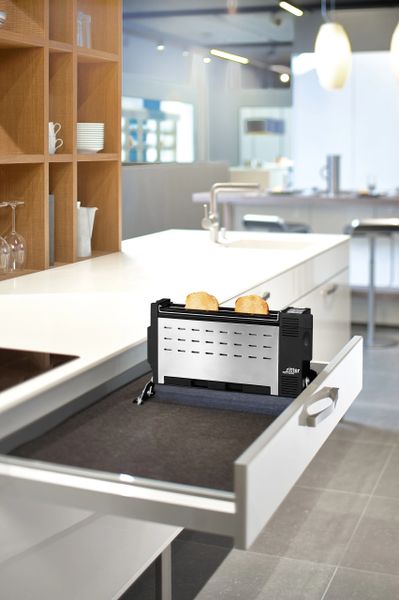 ritter built-in toaster ET 10, ritterwerk GmbH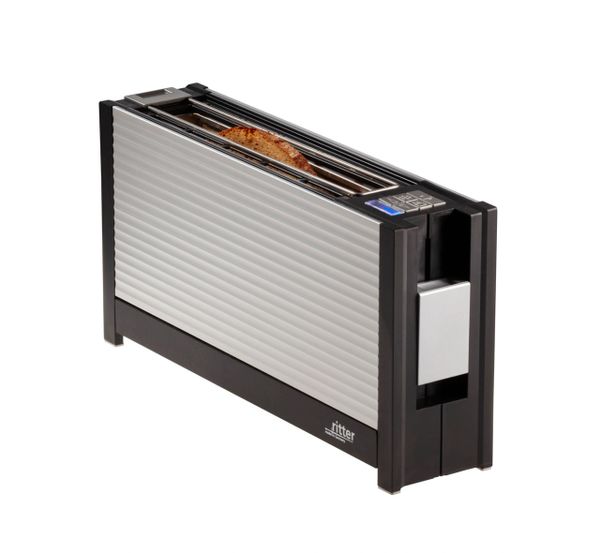 ritter toaster volcano 3, ritterwerk GmbH
More information about the product