Notepad

Your notepad

You don't have any products on your notepad yet.
ritter coffee machine cafena 5
Product information of the company:
The coffee machine cafena 5 from ritterwerk GmbH has been awarded the Blue Angel seal. This makes the company from Gröbenzell near Munich the only manufacturer of household appliances in the world whose coffee machine is currently allowed to bear the label since they are particularly excellent energy-efficient, climate-friendly products.
With the cafena 5 coffee machine, 8 cups of 125 ml of filtered coffee can be brewed. The elegant thermal jug is equipped with a shatter-proof stainless steel vacuum cylinder and is ideally suited as a serving jug.
cafena 5 impresses with an energy-saving eco-brewing process. Unlike other coffee machines, the integrated boiler is located right underneath the water tank, which leads to short water routes and thus to reduced temperature losses, noise and steam. When not in use, the cafena 5 coffee machine can be left in standby mode at 0 Watt, which also helps to save energy.
With an automatic calcification stop function the cafena 5 will stop the brewing sequence as soon as the coffee machine no longer works efficiently due to calcification or if there is a risk of damage to the heating element.
During the brewing process, the light of the eco-switch illuminates in red. Once the process has finished, the light goes out and the eco-switch moves into the off-position automatically. Unlike with other manufacturers, cafena 5 switches off automatically right after the brewing process, regardless of the desired number of cups.
The rotatable, removable filter holder, which is equipped with a drip stop and overfill protection, can be cleaned easily and conveniently.
cafena 5 - of course "made in Germany", as all other products by ritter.
Short description
coffee machine for 8 cups à 125 ml

filter size 4

housing made of high-quality plastic

thermal jug with shatter-proof stainless steel vacuum cylinder

thermal jug with an extended heat-keeping function can also be used as a serving jug

rotatable and removable filter holder with drip stop and overfill protection

energy-saving eco brewing process: boiler is located right underneath the water tank, which leads to reduced temperature losses

automatic switch-off straight after the brewing process of the desired number of cups

0-watt standby mode

automatic calcification stop function: device switches off automatically in the event of calcification

illuminated eco switch

five rubber feet to prevent slipping
Technical features
220 – 240 V, 650 – 800 W

VDE/GS, safety category 1, CE

Dimensions: width 17.5 cm height: 43.5 cm depth 22.0 cm

weight: 3.0 kg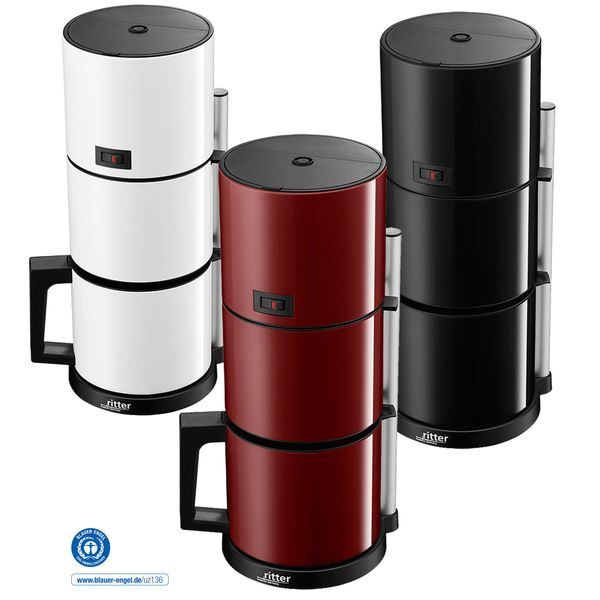 ritter coffee machine cafena 5, ritterwerk GmbH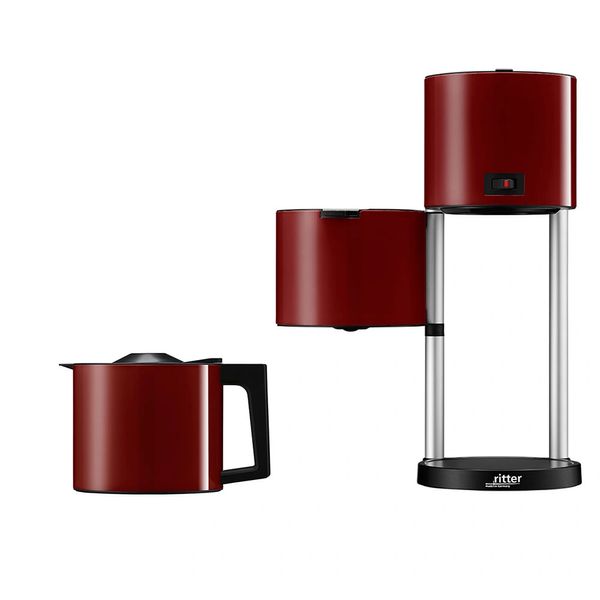 ritter coffee machine cafena 5 red filterholder swung out with thermal jug, ritterwerk GmbH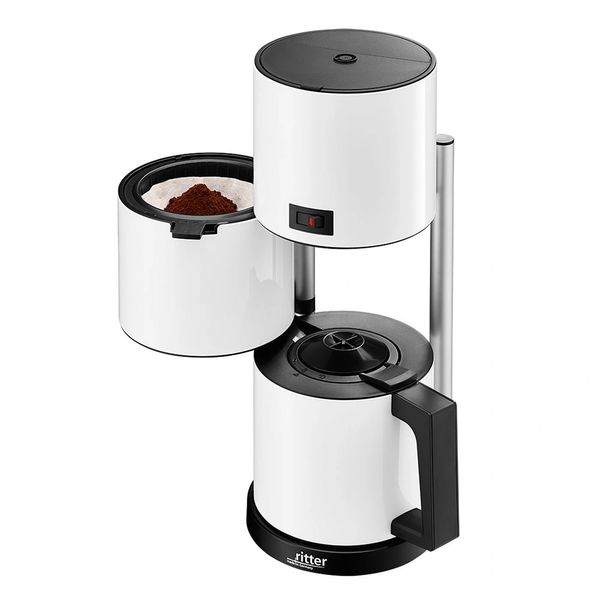 ritter coffee machine cafena 5 white filterholder swung out, ritterwerk GmbH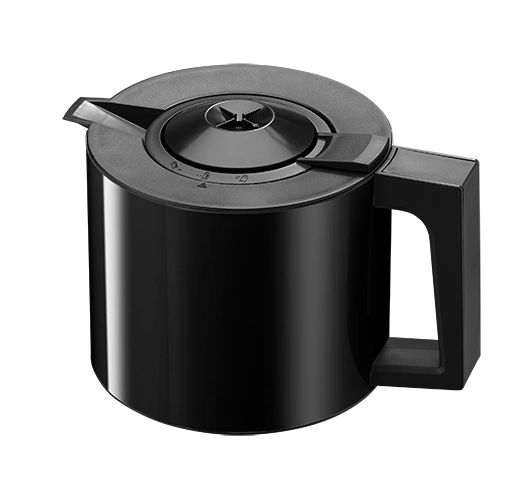 ritter coffee machine cafena 5 black thermal jug, ritterwerk GmbH
More information about the product