Notepad

Your notepad

You don't have any products on your notepad yet.
PAIDI Babyworld – Kindermöbel Ausführungen/Beschichtungen (produktabhängig): Melaminharzbeschichtung, z.T. Massiv lackiert, Furniert lackiert oder Lackiert. Programme: Benne, Biancomo, Bruno, Carlo, Eddie, Eike, Elian, Eliana, Fabiana, Faro, Fiona, Fleximo, Floria, Florian Plus II, Fritzi, Haro, Henrik, Kalea, Katrin, Kira, Laslo, Leo, Lennox, Liam, Lotte & Fynn, Mathea, Matilda, Mees, Oscar, Pinetta, Remo, Scotty, Sienna, Sophia, Sten, Sylvie, Theo, Tonio Plus, Valentina, Vanessa Plus, Varietta, Vincent, Ylvie
Product information of the company:
PAIDI Babyworld

Our baby furniture enables a wide range of furnishing options – inside a modern or classical baby room in white colors or with design accents. In addition, our baby room furniture is safe, stable and ergonomic, e.g. all cots come with our PAIDI AIRWELL Comfort slatted frame. And it goes without saying that we only use non-toxic paints for every piece of furniture.

PAIDI baby bedroom furniture has been manufactured to the highest quality standards for over 85 years - and thanks to intelligent additions, the baby furniture can be used for years to come.

This means that the Baby Rooms can be completely combined and extended with furniture from other PAIDI product worlds and accompany your child right up to toddler and adolescent age.

We make no compromises when it comes to the safety and stability of our products - every Baby Room set complies with the strictest safety standards. This is our contribution to a healthy growing up of your child.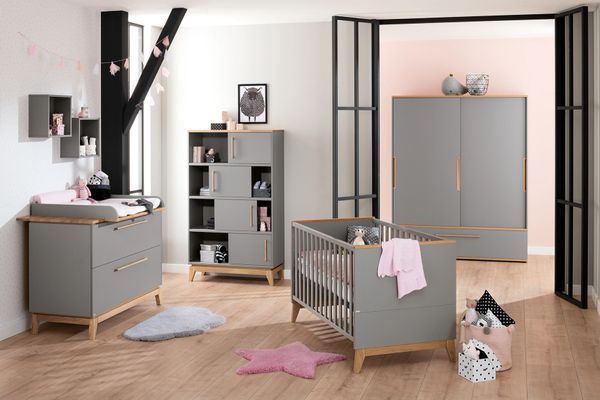 Sten
More information about the product
PAIDI Möbel GmbH
Hauptstraße 87
97840 Hafenlohr
Germany