Notepad

Your notepad

You don't have any products on your notepad yet.
NILS ANTARES ES 46
Product information of the company:
ANTARES ES is synthetic based high performance lubricants (HEES) specially formulated for all those applications and plants operating in particularly protected environmental areas. ANTARES ES is particularly suitable as turbine lubricant, as well as hydraulic fluid assuring perfect lubrication, long live and stability of the oil and environment protection. This lubricant is suitable for use on white metal bearings used on turbines, hydraulic pumps and similar applications where assures perfect lubrication and protection.
ANTARES ES correspond to the technical requests DIN 51524 part II concerning hydraulic oils, and DIN 51524 part III for HVLP. This is article with very high viscosity index and low pour point, thus particularly indicated for use in large temperature range as well as for use on very low temperatures (it is suitable to be used on machinery working in mountains).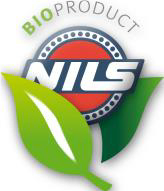 More information about the product
NILS S.p.A.
Via Stazione, 30
39014 Postal-Burgstall (BZ)
Italy