Notepad

Your notepad

You don't have any products on your notepad yet.
FUTERRA HF 46
Product information of the company:
FUTERRA is the leading-edge lubricant designed to outperform every other Environmentally Acceptable Lubricant (EAL) on the market. Formulated with HEPR1 technology, FUTERRA HF Series is a high performance, Ecolabel Certified Hydraulic Fluid series that is the first of its kind. These renewable hydrocarbon EALs are designed to withstand extreme conditions and corrosion while operating in severe outdoor environments. It is intended for severe service, extreme high temperature (250°F/121°C), low temperature (-40°F/40°C) and high pressure (5000+psi/34,470 kPa) applications.
The FUTERRA HF Series was specially designed for industrial applications where incidental environmental exposure of the lubricant is a cause for concern, as it is: • Ecolabel Certified • Compliant with US EPA Vessel General Permit (VGP), IMO Guidelines for Operating in Polar Water and Regelement Onderzoek Schepen op de Rijn (ROSR) for inland shipping • Non-sheening2 • Meets the requirement of ISO 15380 • EWC / German waste code 13 01 12*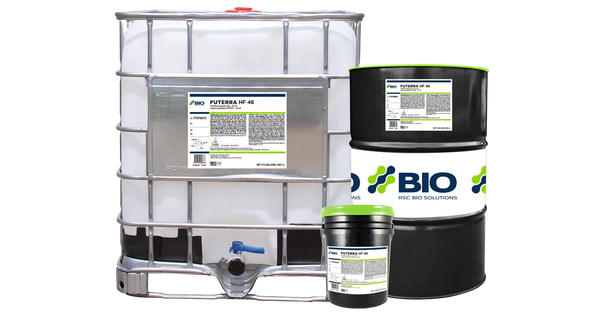 FUTERRA HF 46, RSC Bio Solutions
More information about the product

RSC Bio Solutions
600 Radiator Rd., Indian Trail,
NC 28079
USA
Senior Applications Development Manager Annie Otto